Whatsapp duniya bhar mein messaging, video aur voice call ke lie ek lokapriy app hai. whatsapp kee tarah hee kaee app baajaar mein aae jaise telegram, imo aadi, lekin inakee lokapriyata seemit hi rahee. haalaanki, whatsapp ko tak‍kar dene signal app aa chuka hai.
signal ke jarie aap bina esemes ka shul‍ka chukae ins‍taintalee apane dos‍ton ko sandesh bhej sakate hain. grup banaakar riyal taim mein chaitachait kar sakate hain. photo aur veediyo sheyar karane ke saath-saath video aur voice kol bhee kar sakate hain.
Signal
signal aapake har maisej kee praivesee ko barakaraar rakhata hai. isake lie yah edavaans‍da end too end enakrip‍shan protokol ka is‍temaal karata hai.
isaka sarvar na to aapaka koee deta s‍tor karata hai aur na hee aapake kisee maisej tak isakee pahunch hotee hai. yah whatsapp ka ek praivet aur sik‍yor rip‍lesament saabit ho sakata hai.
Whatsapp vs Signal
signal aip mein login karane ke lie aapako kisee alag yoojaranem-paasavard ya pin kee jaroorat nahin hai. yah whatsapp kee tarah hee kaam karata hai. aap apane phon nambar ke jarie is aip mein log-in kar sakate hain.
signal mein aap enakrip‍ted grup banaakar ek hee baar mein apane kaee dos‍ton se praivet baatacheet kar sakate hain. signal ka sarvar grup ka metaadaata ya membaraship lis‍ta, grup taitatal ya grup aaikon ko s‍tor nahin karata hai.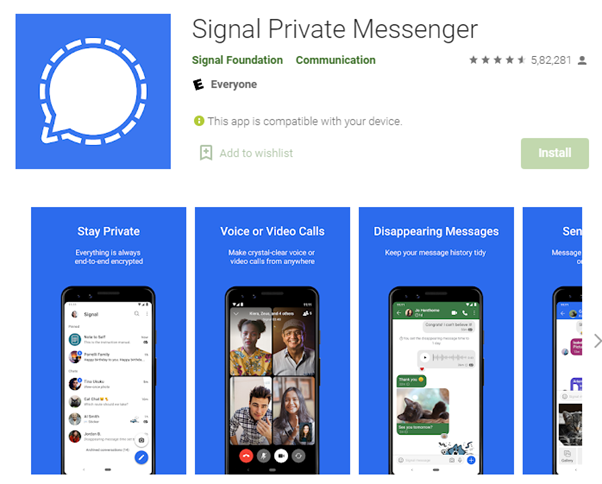 duniya mein kaheen bhee mupht aur taatkaalik sanchaar ke lie har din laakhon log signal ka upayog karate hain. uchch-nishtha sandesh bhejen aur praapt karen, echadee video aur voice kol mein bhaag len, aur naee suvidhaon ke badhate set ka pata lagaen, jo aapako jude rahane mein madad karen.
signal kee unnat gopaneeyata-sanrakshan takaneek hamesha saksham hotee hai, isalie aap un kshanon ko saajha karane par dhyaan kendrit kar sakate hain jo aapake lie mahatvapoorn hain.
Main features of Signal-
• Say anything- atyaadhunik end-too-end enkripshan (opan sors signal protokol ™ dvaara sanchaalit) aapakee baatacheet ko surakshit rakhata hai. gopaneeyata ek vaikalpik mod nahin hai – yah signal ke kaam karane ka tareeka hai. har maisej, har kol, har baar.
• Go fast – sandesh dheeme netavark par bhee jaldee aur mazabootee se vitarit kie jaate hain. signal sambhav sabase vivash vaataavaran mein sanchaalit karane ke lie anukoolit hai.
• Feel free – signal pooree tarah se svatantr 501ch3 gair-laabhakaaree hai. vikaas aapake jaise upayogakartaon dvaara samarthit hai. koee vigyaapan nahin. koee traikar nahin. majaak nahin.
• Be yourself- aap apane doston ke saath surakshit roop se sanvaad karane ke lie apane maujooda phon nambar aur edres buk ka upayog kar sakate hain.
• Speak up – chaahe ve poore shahar mein rahen ya saagar mein, signal kee badhee huee odiyo aur veediyo kee gunavatta aapake doston aur parivaar ko kareeb mahasoos karaegee.
• Whisper in the shadows- yadi aap prakaash ko dekhane se inakaar karate hain to andhere vishay par svich karen.
• Sound familiar- pratyek sampark ke lie kastam alart chunen, ya shor ko pooree tarah se aksham karen. saiman end gaaraphankal ne 1964 mein isake baare mein ek hit geet likha tha, aur jab bhee aap apanee adhisoochana ringaton ke roop mein "koee nahin" chunakar maun kee dhvani ka anubhav kar sakate hain.
• Picture this- skech, krop aur apanee nivartamaan tasveeron ko phlip karane ke lie antarnihit chhavi sampaadan suvidhaon ka upayog karen. yahaan tak ​​ki ek paath upakaran bhee hai taaki aap 1,000 se adhik shabd jod saken jo aapakee tasveer pahale se hee laayak hai.